German wine glossary
A B C D E F G H I J K L M N O P Q R S T U V W X Y Z


Gassy
Sensory evaluation term describing a wine which contains residual carbon dioxide left over from the fermentation. Not unpleasant in most white wines, but distinctly undesirable in reds because the CO2 exaggerates their bitterness.
Gebiet
A term for a Major wine region.
Geisenheim
Town in the Rheingau of Germany. Known for its school of Viticulture, the most important in Germany and one of the most important in the world. Its vineyards also produce wines of outstanding quality in most years.
Gemeinde
Term for a village or Parish.
Generic wine
Blended wine of ordinary quality, without any varietal or other special characteristics. Everyday, low price wine. See Vin ordinaire.
Generous
Tasting term which means that the wine is rich, generally high in alcohol (but not hot tasting) and has a full body.
Gerbstoff
Tannin
Gewächs
New term meaning Growth in the classification sence.
Gewurztraminer for a full list of grapes click HERE
A pink coloured wine grape with small berries which produces highly flavourful and spicy white wines. Originally found in Pfalz, it has since been propagated in most of the world's coolest winegrowing regions, showing particular success in Alsace. The name means "spicy traminer," and it is probably a clone of the less flavourful "Traminer." The two names are distinguished from each other less and less so that they now are used more or less synonomously. Although the grape skin is noticeably pinkish, there is not enough pigment in most clones of Gewurztraminer to produce rose coloured wine. Even if a winemaker notices a natural pinkish cast in a new Gewurztraminer wine, he also finds that the colour quickly fades to yellowish (actually, a very dilute brown) and he has a slightly darkened white wine. Gewurztraminer wines are not usually bottled bone dry, but with a small amount of residual sweetness.As far as ampelography (the description of vines) is concerned, Traminer and Gewürztraminer (Gewürztraminer) are one and the same variety. The distinct differences in maturity and bouquet are obviously based on slight variations within one variety In the Ortenau district, Traminer is also called Clevner.
Glimmerschiefer
A kind of mica slate.
Gloria
(white grape) Wine/table grape derived from a Silvaner x Müller-Thurgau cross-developed at the Geilweilerhof Institute, Germany . Used to make a neutral, full-bodied white wine with faint aroma that will attain higher sugar and lower acidity than Silvaner.
Gluhwein
German muled wine.
Gout de Terroir
Literally, taste of earth, this is a tasting term meaning that you can taste the characteristics given to the wine by the fact of its having been grown in a certain soil at a certain location. Contrary to popular misconception, it is not the taste of the soil itself, but something recognizable in the taste of the wine that repeatedly comes from wines grown in that location. As an example, Chablis wines often are described as having a "flinty" taste and it is supposed that this comes from the grapes having been grown in the combination of the calcium rich soil and harsh climate of the area. Thus, it is more accurate to translate the word terroir as "location" (including the soil and specific microclimate at that unique location) than to simply call it "the soil."
Graf
On the label may refer to the owner if he is a count.
Grafting
The process of growing a cutting of a Vitis vinifera onto an American or hybid, phylloxera-resistant rootstock.
Grauwacker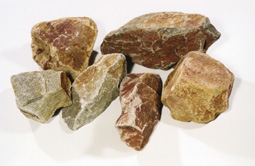 Grey Slate
Green
A tasting term describing the grassy, herbaceous or vegetal taste of wines which were grown in too cool a climate.
Grey Rot
A vine affliction caused by the same fungus, Botrytis cinerea, that is responsible for Noble Rot. Grey Rot is the result of the action of the fungus in persistently damp, humid conditions, only when it afects ripe grapes can it be called noble rot.
Green harvest
The practice of removing unripe bunches of grapes in midsummer in order to reduce the yield per plant and increase the quality. Unlike other plants which will abort excess fruit, such as the peach, the vine will try and ripen the whole crop - which if large will increase the likelihood of producing a dilute wine.
Goldriesling for a full list of grapes click HERE
Ancient white grape Variety producing mainly mediocre white wines. A cross between Riesling and Courtiller Musque. Mainly grown in small acreages to be found in Sachsen or Saale Unstrut.
Grauer Burgunder for a full list of grapes click HERE
(white grape) Alternate name for the Pinot Gris grape in both Austria and Germany also called Ruländer, is a variety of the pinot family. One story is that Ruland, a merchant at Speyer , introduced it to Germany . It prefers warm regions and produces rich, full-bodied wines with bouquet, which resembles of honey. Grauburgunder presents itself with a deep golden hue in the glass. It is one of Baden 's specialities.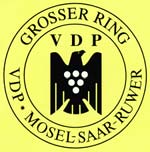 Grosser ring
Mosel growers association.
Grosslage
A collection of einzellagen under one name.
Gruener Veltliner for a full list of grapes click HERE
(white grape) White-wine grape used to create the famous fresh, fruity young wines of Austria . Can be described as milky it is also known as Veltliner. Best when consumed very young.
Gutedel for a full list of grapes click HERE
(white grape) The German synonym name for the French Chasselas grape when grown in the Baden region of Germany It was the Markgraf Karl Friedrich von Baden who introduced it in 1780 from the Lake Geneva area to the district Markgraeflerland where it still covers 50% of the vineyards .It is a true Baden specialty for which reason is also called Markgraefler. Gutedel makes a light, pleasant and agreeable wine, usually dry and taken with meals but also used as a sipping wine. Grown mainly now in Baden , Sachsen and Saale-Unstrut with about 1,200 ha grown.
Gutsabfüllung
Means estate-bottled.
Gutsweine
This wine must be high-quality wines that reflect regional character.At least 80% of an estate's holdings must be planted with traditional grape varieties Typical of their region, as recommended by the VDP. Maximum yield 75hl/ha. Minimum must weight (higher than prescribed by law) Is determined by the regional associations.
Wine villages beginning with

click the village name for a list of its einzellagen (individual vineyards)
Back to the Top of wine glossary