German wine glossary
A B C D E F G H I J K L M N O P Q R S T U V W X Y Z

Kabinett
German classification for quality wines mit pradikett ranking just below spatlese. Kabinett wines are relatively low in price, but sugar is never used in their production (which is a positive indicator for quality).
Kalk
Limestone (chalk).
Kanzler for a full list of grapes click HERE
This is a white grape variety resulting from a crossing of Muller Thurgau and Silvaner again in 1927 in Alzay. It is early ripening and needs a warm site. It can be found in the Rheinhessen and Rheinpfalz. Has synonym name Alzey S.3983. Possessed of moderate vigour, crop potential, despite wood hardening deficiencies. It can produce a white wine with a delicate bouquet, rich in extract and having a fruity flavour.
Kellerei
winery German wine wholesaler.
Kellermeister
Celler Master.
Kelter
Wine press.
Kerner for a full list of grapes click HERE
White grape developed from a cross in 1969 between the Riesling and Schiava Grossa grapes. The latter variety is known as the Trollinger in Germany where it is mostly grown. Used to produce a Riesling-like white wine said to often reach "Auslese" Prädikat quality this is the most successful new variety of the Staatliche Lehr- und Versuchsanstalt für Wein und Obstbau at Weinsberg. It originated as a cross between Trollinger and Riesling. Kerner thrives well in vineyards of average quality and is planted as a supplement to Muller-Thurgau. Because it buds late it has good frost resistance. In the 19890s it was the fourth most widely planted grape variety in Germany , there are now about 6,500ha under vine.
Keg
Small barrel for wine aging or storage -- usually only 12 gallons in size.
Keuper
Clay and slate soil.
Kies
Gravelly soil.
Klassifizierte Lage
Only wines from classified sites of Superior quality bear the name of a vineyardClassified sites compromise a select, small group of traditional vineyards that have a distinctive character. This constitutes a fraction of the multitude of vineyard names permitted by law. No restrictions With regard to taste profile. Maximum yield of 65hl/ha. Designated grape varieties and minimum must weight are determined by regional VDP associations.
Klevner for a full list of grapes click HERE
(white grape) (a.k.a Clevner). Alternative name in the Alsace region of France for the Savagnin Blanc variety.
Klingelberger for a full list of grapes click HERE
white grape another name for the Riesling in the Ortenau region of Baden .
KLOSTER EBERBACH
The Eberbach Monastery lies at the heart of the Rheingau, which Heinrich von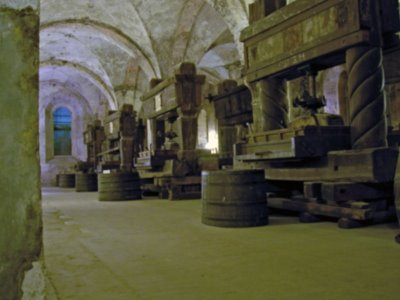 Kleist once described as the Wine Garden created "con amore"by the Good Lord. And as one would expect from a Cistercian settlement, the Monastery is tucked away in a secluded, picturesque valley, far away from the loud traffic routes and the hectic lifestyle of bustling residential areas. Completely enclosed on all sides by forests and vineyards.The Staatdomain has some wonderfull vineyards here.
KMW
An abbreviation for Klosterneuburger Mostwaage, a measurement of must weight used in Austria. A more widespread equivalent, which is used in Germany, is the Oechsle scale.
Wine villages beginning with

Back to the Top of wine glossary