German wine glossary
A B C D E F G H I J K L M N O P Q R S T U V W X Y Z

Halbfuder
Half a fuder therefor a Mosel cask of 500 litres
Halbstuck
A Rhein cask holding 610 litres
Halbtrocken
term for off dry wine with between 8 and 15 grammes of residual sugar.
Halbbogen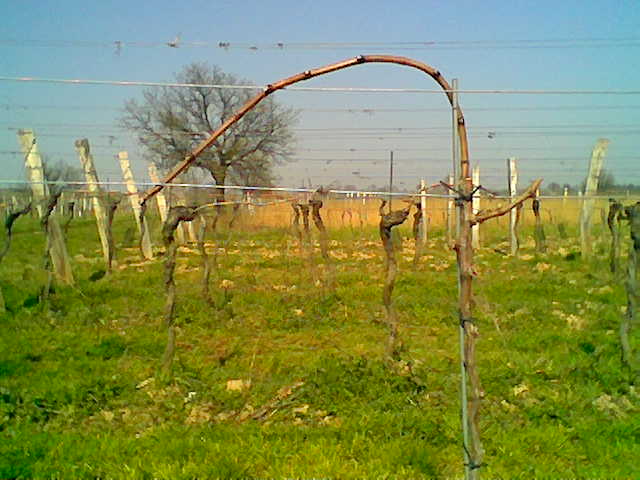 A German training system whereby the vine is pruned to one cane of about 15 buds' length, and is arched in the middle over a wire about 25 cm/10 in above the base and end of the cane. Shoots are trained each year vertically between foliage wires, and are trimmed at the top.
Hard
Tasting term describing a wine which is excessively tannic, bitter or astringent and which lacks fruitiness.
Hauptlese
The main Harvest
Heartwood
The innermost portion of the woody tissue (xylem) making up the trunk of woody plants, such as grape vines or trees. Heartwood is composed of dead xylem cells which serve to give wood its strength.
Heat summation
A measure of the climate of a growing region calculated by adding the mean temperatures for each day (minus a base temperature) over a growing season. For grapes, the base temperature is 50 degrees F (10 degrees C). See Climatic Regions.
Hectare
Unit of size for farmland in Europe and other continents. One hectare is approximately 2.5 acres.
Hectoliter
Common unit of measure for wines in all European wineries. One hectoliter is 100 liters, 22.03 British imperial gallons
Helfensteiner for a full list of grapes click HERE
(red grape) Vitis.vinifera cultivars developed and recently released by the Weinsberg/Württemberg Wine Research Station, Baden ( Germany ). Has synonym names Weinsberg S 532 and Blauer Weinsberger. Reported as a Fruhburgunder x Schiava Grossa cross.
Herb - German equivalent of Brut.
Herbstbuch
The vintner has to administrate the data of the vintage (ripeness, origin, amount) in a so called Herbstbuch ("autumn book").
Heroldrebe for a full list of grapes click HERE
(red grape) Vitis.vinifera cultivars created and recently released by the Weinsberg/Württemberg Wine Research Station, Baden . Has synonym name Weinsberg S 130. It is derived from a Portugieser x Lemberger cross.
Herzog
On the label may refer to the owner if he is a Duke.
Hochgewachs
A wine that exceeds minimal Oechsle requirements and does well at tastings (hoch means high)
Hock
Originally an English term to denote wines which came from Hockheim, Germany. Today the term describes the unusually tall, slim bottle which is used for Riesling and similar wines. Also, hock refers to Riesling and similar wines themselves.
Hot
Taste sensation often found in high alcohol wines. Table wines with hot taste are unpleasant to drink.
Huxelrebe for a full list of grapes click HERE
(white grape) Another crossing by Georg Scheu at Alzey in 1927. Variety made by crossing the Chasselas and the Muscat , which contributes its ubiquitous aroma to wines made from the grape. Grown mostly in the Rheinhessen region and used mainly for sweet white wines of no particular distinction that can qualify for "Auslese" Prädikat standards in better vintages.
Hybrid
In viticulture, a new variety resulting from crossing two other (usually very different) varieties.
Hydrometer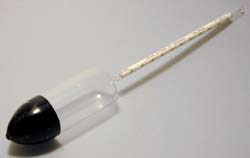 A hollow cylindrical bulb, with lead shot sealed in the bottom to make it float vertically and a numerical scale in the stem for reading the density of the liquid in which it is floated. Hydrometers are commonly used to quickly measure the density (therefore, the sugar content) of grape juice in the fermenter. After the juice has become fermented into wine however, the hydrometer can no longer be used for this purpose. While sugar tends to make a water solution more dense, alcohol tends to make it less so. In a mixture of sugar and alcohol, neither one is measured accurately by hydrometry and other, more specific methods must be used.
Wine villages beginning with

click the village name for a list of its einzellagen (individual vineyards)
Back to the Top of wine glossary